The CBDG architecture
Access to the CBDG data is based on multi-layer architecture. Remote access servers and Internet applications enable access to the database from outside the PGI in Warsaw, for instance from its regional branches, the Ministry of the Environment and other institutions that retrieve or add data to the database.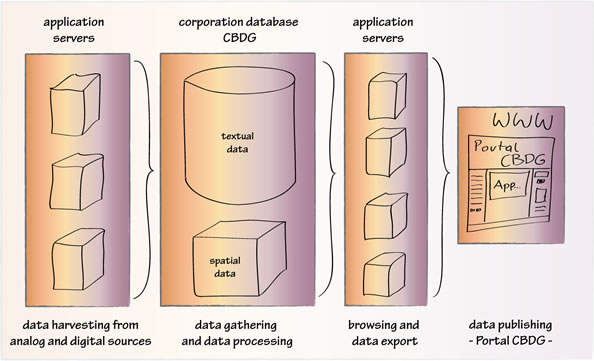 The CBDG also provides spatial data and guarantees their relevance to descriptive data during updates. It contains reference layers, such as: topographical, administrative and geological, used by numerous important information systems of the PGI, such as: MIDAS, SOPO and IKAR.
The public access to the database is provided by the CBDG Internet service, which enables the users to browse essential data, of both textual and spatial type (GIS). It also supports ordering serial maps of the PGI (SMGP, MHP and MGGP). The service runs on a separate server where the data are regularly updated on the basis of the CBDG resources.