Reports
Catalogue data of archival geological reports, maps, aerial and satellite photographs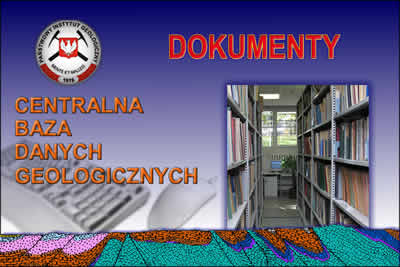 The subsystem provides data on archival geological reports, maps published in print, digital maps as well as aerial and satellite photographs. It also enables the users to register the borrowed documents on their personal borrowing cards. Documents registered in the subsystem are described by means of typical catalogue information (title, authors, year, inventory number) and, additionally, by numerous key words, chosen from several thematic vocabularies available. Every archival document is assigned serial map sheets and a national administrative unit. The summaries of archival reports can be also entered into the CBDG. The Documents subsystem is related to other subsystems (Boreholes, Survey Sites) and to the Infogeoskarb system which provides data on the rights to geological information in the archival reports and the costs of preparing geological documentation.
The Documents subsystem contains catalogue data of archival geological reports from the Central Geological Archives (CGA) in Warsaw, its offices in the PGI regional branches and other archives in Poland. The data were previously stored in older versions of databases run by the CGA, the Geophysics Unit as well as SEGI-PBG. The data were partly collected while the Infogeoskarb system was being prepared. Moreover, the subsystem contains catalogue data on the maps and aerial photographs from the Map Archives of the CGA in Warsaw and data on digital maps and satellite photographs stored in the PGI.
A significant part of the data in the Documents subsystem was added to the CBDG in the course of the daily cataloguing of older documents and the ones the Archives constantly receives. One of the aims of the CGA is to take control of the resources of geological archives under liquidation.