Geophysics
Information on reports and geophysical surveys.
Further reading: About CBDG - Geophysics.
The Documentation form enables the users to search for data once they tick one of the following fields:
Reports on geoelectricity,
Reports on geophysics,
Reports on gravimetry
Reports on magnetics,
Reports on radiometry,
Reports on seismology,
Reports on spectrometry.
The following geophysical layers containg the location of surveys are available in the geographic viewer:
Geoelectrical documentation,
Geoelectrical sounding - SGE,
Survey sites: magnetics,
Survey sites: gravimetry,
2D and 3D seismics,
Marine geophysical profiles,
Magnetotellurics,
Boreholes - well-log data.
Since the 'Survey sites: magnetics' layer and the 'Survey sites: gravimetry' layer contain a large number of objects (about 800 000 each) and generating a map takes a longer while, it is possible to view them only in the larger scale after zooming to the area of your interest. Specifically, you should click the 'Zoom In' button to see the survey sites once the map has been zoomed in to the sufficient scale.
The functions of the geographic viewer are described in more detail in 'The GIS Viewer – The User's Manual'.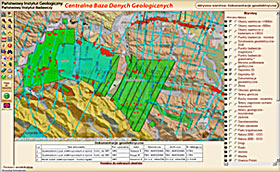 Geographic viewer (GIS)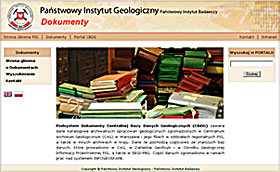 Archival reports
The new web application that provides the data from the Documents subsystem has advanced functionalities for data search and retrieval. This subsystem contains catalogue data of archival geophsicical reports from the Central Geological Archives in Warsaw, its offices in the PGI regional branches and other archives in Poland.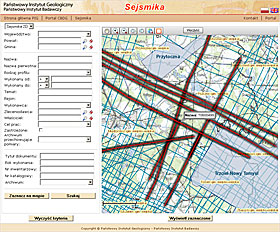 Seismics in CBDG
The web application dedicated to the seismic data allows searching and browsing in the tables and on the map information of seismic survays. These are the metadata for 2D seismic and 3D made ​​in Poland from the mid 70s of last century to the end of 2007.