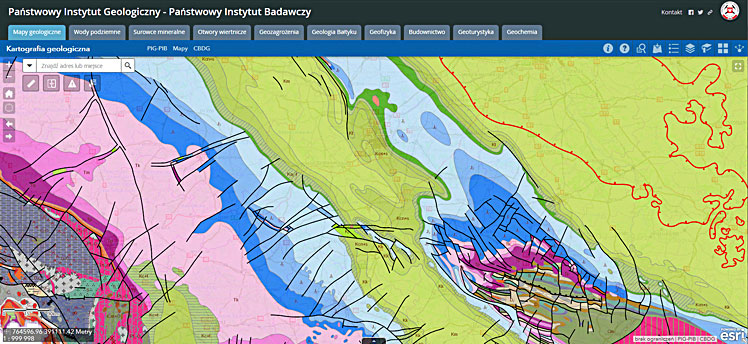 Quick Reference Guide of Portal GEOLOGIA
Click - displaying information and selected object in the pop-up window. In this window there are links: "..." expanding the list of browsing options, Zoom to and there may be an additional link See more redirecting to other domain applications with a wider range of information about the object.
Dubble click - zoom
Turning the mouse wheel - zoom in/zoom out.
Drag - move the map .
Menu left
Zoom in - enlarging the scale of the map
Zoom out - reducing the scale of the map
Default range - return to the initial map view
My location - using the GPS signal or local Wi-Fi network, you can move and zoom the map to the location where you are
Previous view - back to the previous map view
Next view - move to the next map view
Measurement - distance and surface measurements or coordinate search of a point
Classify - selecting objects on the map
Analysis of events - performing spatial analyzes
Select - selecting objects on the map
Find the address or place - search locations, address, for example: Babia Góra, Warsaw, ul. Rakowiecka 4 and by the following coordinates: decimal degrees (DD), ie for example. 52.208853, 21.013119
Menu right
Information - information about data sources
Help - information about application functionalities
Query - searching for objects according to their attribute and spatial data
Add data- adding new thematic layers
Legend - descriptions of objects displayed on the map
List of layers – enable or disable visibility of layers within map services and customize their transparency
Bookmark - saving the map composition in the form of a view that can be loaded in the future.
Base maps gallery – choose a base map
Share - different ways to share the currently viewed map:

Ready code to embed a map on any web page,
A link to a map that you can send, for example, by e-mail,
Publish the map on social networks: Facebook, Twitter, Google+, LinkedIn

Terms of use - conditions of use of published data
Contact - contact information
Attributes table (bottom)
Displays a tabular view of the attributes of objects from the thematic layers of the map
Attention!
Visibility objects on the map - Due to the high detail or very large number of objects in some layers, viewing them is only possible closer to a small enough part of Poland i.e. at larger scales.
The set of available functionalities (widgets) may vary, depending on the specific nature of the subject areas of the domain.
| | |
| --- | --- |
| The new map portal GEOLOGIA is an example of a modern technological solution in the service of geology. Based on mapping services provided from the largest geological database - CBDG, Portal GEOLOGIA creates opportunities to reach even very detailed data directly from the map. At https://geologia.pgi.gov.pl, in one place there is a lot of knowledge from many fields geology - the effect of fieldwork and research of many generations of geologists. | The data resources divided into thematic categories can be easily viewed in many ways. The portal allows you to construct spatial queries and search for interesting content using forms. The searchable information is available in the form of tabular lists with the option of sorting and exporting to a file. The map compositions created during the work can be saved as well as generate a code ready for them to be embedded on other websites. |