Data in the form of WMS and WFS services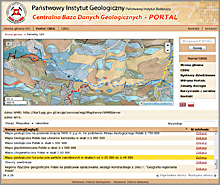 In the form of SHP files are available:
MIDAS system data (boundaries of fields, areas and mining areas)
Deposits crossed out of the domestic balance of mineral resources deposits, for which the data source has been specified.
SHP (shapefile) is a kind of vector graphics file that is developed on an open standard basis, mainly by ESRI). SHP files are read by any GIS software and most CAD applications.
The addresses of WMS and WFS services are published on the website http://uslugi_gis.pgi.gov.pl