Geomind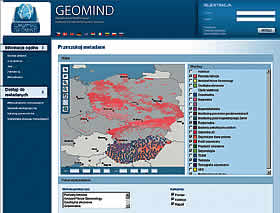 Geomind
Closely cooperating with other PGI-NRI departments, the CBDG team actively participated in the international project called GEOMIND, prepared by a consortium of 12 partner institutions from 9 European countries. As a result, a multilingual Internet portal was established to integrate geophysical data obtained from resources of the countries involved in the initiative.
Moreover, international standards of representing both metadata and detailed data were set, which promotes further integration and popularization of European and global geoinformation.
CBDG coordinates and manages all information in the field of geophysics data contained in CBDG and other units of the PGI-NRI. Geomind is supplied as appropriate metadata for geophysical surveys. Project closed, inoperative.