The Central Geological Database (Centralna Baza Danych Geologicznych) is the largest Polish collection of digital geological data, such as detailed information on boreholes, archival geological reports and various types of geophysical research.
CBDG Portal provides access to geological data in many different ways.

Mobile geology
Geological data can be viewed on different mobile devices using aplications: Geologia and GeoLOG. They use the map services served by CBDG. You can also load WMS from the other geoportals.
Both applications are universal tools and therefore may also be used on computer with standard monitor. GeoLOG is an improved version of the first mobile application of the CBDG - Geologia. Browse data: GeoLOG, Geologia.

Geology Online - GIS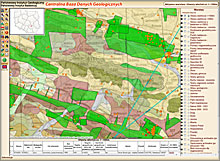 The CBDG Internet service provides an application, the geographic viewer to search for and retrieve spatial data. It allows you to search by multiple criteria, and analyzing spatial information. GIS viewer presents basic data about the different types of objects. from CBDG. GIS Viewer

Free download geological data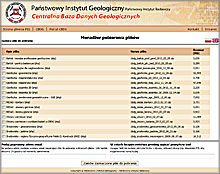 Geological spatial data can be downloaded free of charge in the file format SHP. It is possible to download files only for the following thematic layers prepared by the Polish Geological Institute-NRI.
Free download
Web Map Services (WMS/WFS)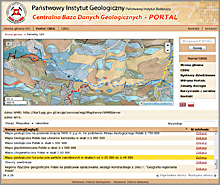 The CBDG server publishes map services using the international standard protocol for web mapping, WMS i WFS. Maps can be viewed in a mobile applications: GeoLOG and Geologia.
Browse WMS/WFS services