Surface geophysical measurements
The CBDG collects surface geophysical measurements data from research methods such as:
Gravimetry,
Magnetometry,
Geoelectrical sounding - SGE,
Magnetotellurics.
The CBDG stores detailed gravimetric measurements, measurements of the vertical component of the magnetic field of the Earth and the T-module of the Earth's total magnetic field, the results of aeromagnetic measurements from the Carpathians and Sudetes, and the results of geoelectric surveys (partly) and magnetotelluric measurements.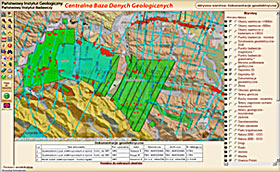 Map Viewer CBDG
Due to the large number of research points (about 800,000) in layers: "Magnetism" and "Gravimetry" and therefore long time map generation, viewing them is possible only on a larger scale, after selecting a fragment of Poland. Therefore, first use the Zoom tool and only when the map is displayed in a sufficiently large scale, research points will appear on the screen. For more information see the "Map Viewer Manual".